Did you visit Rome? Want to write your impressions and give some suggestions to other tourist? Send us your report at mytravel@romeye.it
(To make our job easier please don't write more than 300 words and add only 1 .jpg image)


Debbie and Colleen, Orange, CT (USA)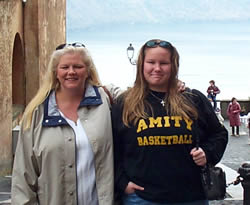 My name is Debbie. In February 2001 my daughter and I took a wonderful trip to Roma Italy.
The Roman people are very friendly, helpful and accommodating.
The food is wonderful and the sites are amazing!
Roma is a wonderful city filled with history! My favorite places in Rome are the coliseum and the catacombs (An underground cemetery where the Christian Martyrs and Romans were buried).
I would recommend going to Roma during the off-season. The trip was very inexpensive ($599.00 inc. air and hotel). Also the food is affordable ($30.00 for a 3-course meal for two inc beverages). I would not recommend renting a car since the streets in Roma are very congested and it's hard to maneuver among the many motor scooters on the road. Taxis are fairly inexpensive and there are tour busses available.
A couple tips: Romans prefer the lira and the U.S dollar to the Eurodollar.
: Try to use you charge card as often as possible, you will get a better exchange rate.
Just remember: Taking a trip to Roma is a once in a lifetime trip and you only live ONCE!!!!! CIAO!!!!!!!